Introducing Weaving Rainbow Handpainted yarns
The first batch of handpainted yarns are ready in a Melon Rainbow colorway. The colors are that of cantelope and honeydew melons melding into one another with splashes of blueberry yogurt on some of the skeins: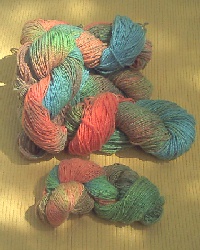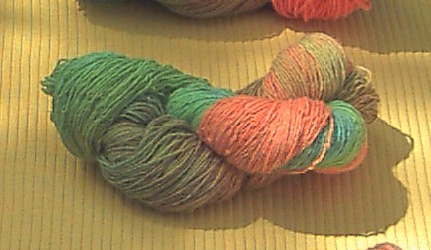 Our introductory price for this yarn is $12.50 plus shipping and you can see more photos on the handpainted yarn page at http://weavingrainbow.com click on "yarns" then "WR handpainted yarns" and you'll see more photos of the yarns including a photo of a knitted sock in progress.
Gary is gradually getting caught up on his loom orders and has built several looms over the last few days and is getting ready to slather them with oil finish and then once they are dry, we'l start shipping them to their new homes.
The rug hooking pattern is getting closer to being ready to order. I'll offer the one of the cat looking out window in more than one size. After talking to a couple of rug hookers, I came to the conclusion that 11 by 14 inches is a little on the small side considering the detail, but it would be a good size for a needlepoint design. Please email me with your thoughts, I'd love to get your input!
Posted by Jessica at June 2, 2004 01:58 AM