Everyone Loves Ponchos
Ponchos are HOT these days: check out our SpinCraft Poncho pattern under the "sweater" category: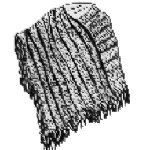 This pattern allows you to make your poncho in any size and any yarn...
Also take a look at the ponchos in the "Patons" pattern section: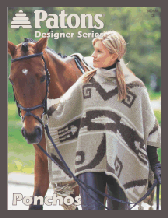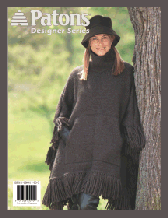 The two shown above are made with Patons Up Country yarn, a single ply bulky yarn that is 100% wool... you can also try Briggs & Little Country Roving or Briggs & Little Super 4 ply for these patterns.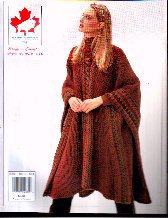 This one is made with White Buffalo yarn and employs a cool slip stitch pattern.
I can put together custom kits for any of the above patterns. I'll be glad to help you with yarn and color choices.
Inquire about color availability if you want to use White Buffalo yarns: White Buffalo colors are limited since Bernat has discontinued the line... I can still get White Buffalo yarns, but I don't know how long this will last. Briggs & Little Country roving is a lovely 5 ply that would work very nicely for bulky or super bulky yarns.

Posted by Jessica at May 5, 2004 05:07 PM