May
Things are happening at Tornadowood and Weaving Rainbow: Gary has been trying to get caught up on back ordered looms in between coaching two soccer teams and refereeing. The soccer season is almost over, so if you are waiting for a loom (albeit patiently or impatiently), it should be showing up soon. We will email you as soon as your loom is ready to ship.
I've been scouting around for some new products and new patterns to carry on the website... what you will be seeing soon are some booklets by Betty Lampen. She has done wonderful teddy bear sweater patterns, and also has other patterns as well. We're also looking into adding Heartstrings patterns to our website store as well.

Something that I'm excited about for those of you that do needlepoint, rug hooking, etc., is that I will be putting together some designs that can be transferred onto fabric or canvas. My first design is a picture of our cat sitting on the couch and looking out the window: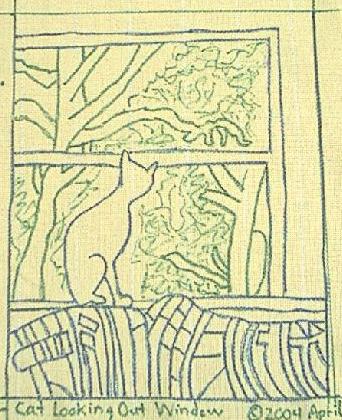 This was done on monk's cloth. Although this is not a good photo of the fabric, it gives you a good idea of what the line drawing looks like. The monk's cloth is actually a lighter (more beige) color than is shown above. I am currently working on a painting of the above pattern, which will be used to help with color placement.
If you would like one of these, let me know if you would like it done on monk's cloth (rug hooker quality with white threads every two inches), burlap, needlepoint canvas, or cross stitch fabric or some other material, please email me at
info@weavingrainbow.com.
The image size is approximately 11" wide by 14" long and will have a generous amount of material around the image edges to allow for mounting on a frame, and fabric patterns will be hemmed to minimize fraying.
Important note about shipping charges for your orders: We want our prices to be fair, so if you're ordering more than one color or type of yarn and feel that the shipping is excessive, please email us and we will adjust it for you, either in the form of a refund if you have already ordered, or by sending you the correct amount to send. This problem should be remedied once we get a shopping cart program set up.
Shipping charges for Jaggerspun yarns & Silk City yarns will be separate from regular orders since these items are drop shipped.
Last thing for today: if you would like to be on an email notification list when the newsletter is updated, please email me at the address above!
Cheers,
Jessica
Posted by Jessica at May 5, 2004 03:24 PM